"Very nice cello, with a handsome varnish. The sound is well balanced with a deep and strong C string, which can be difficult to find in a cello. I also like the width and projection of the A string sound."
Paul Marleyn, Professor of Cello at the University of Ottawa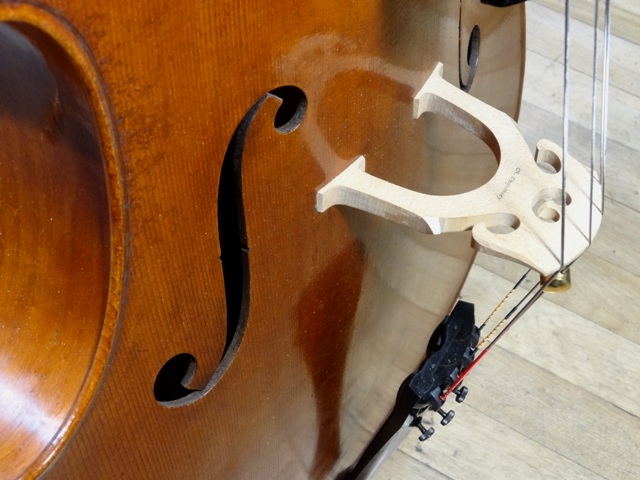 A musical instrument such as a violin, viola or cello is the result of an accumulation of decisions from its conception (and wood choice) to its set up including the design of its outline, proportions, arching shapes, distribution of thickness, sound hole placement/shapes, neck measurements, etc. Despite certain standardizations created by the historical evolution of the instrument, we are still left with a relatively large range of choices.
Before starting an instrument, it is quite important for me to define clearly what I want to achieve in terms of sound, comfort of playing and style. This helps me to determine what model of instrument I'll be working from. I then decide how much freedom I'm going to take with the entire design: if I'll base it on a particular instrument or maker, or if I'll just work from a general feeling of a violinmaking school/period and create my own outlines.
I personally fancy the dark and deep quality of the lower register in quartet instruments, so when I got access to a source of poplar big enough to built cellos, I thought it would be perfect since poplar has a reputation for creating a darker sound in violas and cellos. While I was researching more about it, it also seemed to be associated with quieter instruments. I thought this would make an interesting challenge: to try to get both projection and depth in the lower range of a cello.
With this goal in mind, I picked a model with proportions that would serve this purpose, while also ensuring that the body measurements remain in a standard range that would be comfortable for a cellist to handle. Of course, the overall look is also quite important to me and was taken into consideration. From this starting point, all subsequent decisions were based on previous experience making cellos, observations I gathered working on older instruments as a restorer and influences from publications on related topics. One source of inspiration that was particularly helpful was Frank Ravatin's talk entitled ''Cello making, models and measurements'' given in November 2004 and published in the Vol. XX, No3 of the fall 2006 VSA journal.
One might never know, but some unexpected exceptions to what we thought was the rule might bring us to revise all our conceptions, and such it is the exciting learning curve of a violin maker's journey. I'm generally quite curious before playing an instrument for the first time, and especially when trying a new model! Did the elements come together as expected? I was quite pleased with the results of this last instrument.
As a limited cello player, I felt very lucky to get feedback from professional cellists performing in Ottawa.  I would like to thank them all warmly for it. As a maker working for and with musicians, it is essential for me to stay in touch with their needs and variety of tastes. Therefore, after benefiting from their experience, I was able to make some final adjustments on what turned out to be a very fine instrument!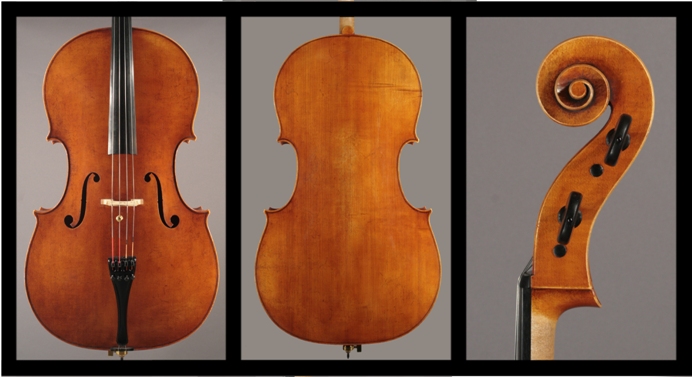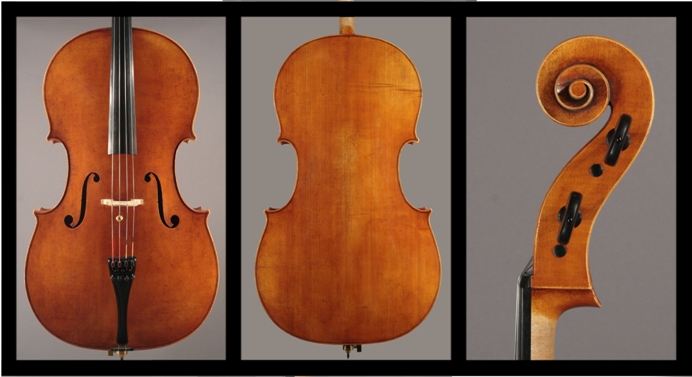 Copyrights © 2016-2021 Charline Dequincey. All rights reserved.