Cellos or Violas made with poplar or willow backs have a reputation for having a warm sound. These wood species were used throughout the history of violin making, and particularly in Cremona during the second half of the XVII century and the first half of the XVIII century. In his book, "The Secrets of Stradivari," Simone F. Sacconi mentions that two fifths of Stradivari's cellos still remaining, feature poplar or willow backs. There are fine examples of those instruments in the collections of the Royal Academy of Music in London and at the Library of Congress in Washington DC.
A few years ago, I acquired some pieces of Canadian poplar which were quarter sawn for violin making use and big enough for a cello. Guy Harrison and I had built in 2009 a cello using European poplar, resulting in a very satisfying sounding instrument. As I was curious to try this other kind of poplar on a cello, I built one. In fact, the spruce used for the blocks and the front also came from Canadian forests, making the body of this instrument entirely Canadian sourced!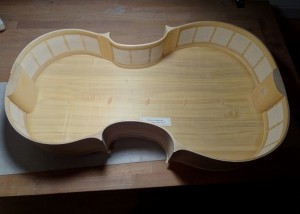 To work with a different wood than the more common maple required that I take into consideration the differences in mechanical and acoustical properties. Accordingly, I adjusted the thicknesses in relation to the density of the wood. Then I measured the tap tones and weight, in order to adjust the final stiffness of the back as a free plate, using Nigel Harris' method.
Some instruments with poplar/willow back features ribs made in a different wood than the back, such as ash or beech, matching the scroll. I used poplar for the ribs to match the back, and reinforced them with linen (a method also employed by Antonio Stradivari).
Copyrights © 2015-2021 Charline Dequincey. All rights reserved.