Last November, I was pleased to finish a cello in time to participate in the 23rd International Violin making competition held by the Violin Society of America (VSA) in Cleveland.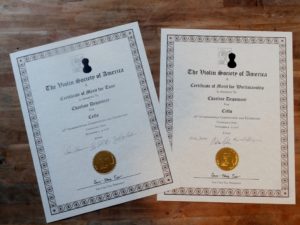 Among the 68 cellos presented, my instrument was awarded a Double Certificate of Merit :
-a Certificate of Merit for Tone by judges and cellists Dane Johansen, Jeffrey Solow and Brian Thornton.
-a Certificate of Merit for Workmanship by judges and violin makers Ulrike Dederer, Antoine Nédélec and Raymond Schryer.
It was a great achievement and honour to be rewarded for my work in this way. For a violin maker it is significant and meaningful to receive such distinction at this international level and to see the results of years dedicated work acknowledged and encouraged.
This event is also an excellent opportunity to acquire a representative overview of global contemporary instruments which were, in my opinion, quite remarkable in quality. It also gives to participants the opportunity to discuss their individual work with the judges. Thank you and congratulations to everyone who took part in it!
I also wanted to personally thank Paul Marleyn, Rachel Mercer, and Raphael Weinroth-Browne for their time and useful feedback while adjusting the cello.
This 2018 Dequincey Cello has a body made of Canadian poplar and spruce. The maple neck and pear wood scroll are sourced in Europe.
Copyrights © 2019-2021 Charline Dequincey. All rights reserved.