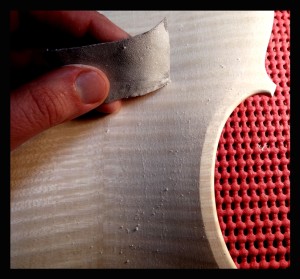 The use of shark skin was introduced to me several years ago during an internship in England. The skin of sharks has an abrasive property which once dry can be used like sandpaper on wood. Nonetheless, I find that a small piece of shark skin tends to last longer than sand paper.
In the "Sacconi book"[1], there is a hand drawing of enlarged dermal denticles from a dogfish (Fig.29 p33). I gathered from my peers comments on the forum Maestronet that the grit may vary with the species and the age of the fish. Dogfish seems to be coarser with a 60/80 grit compared to the labelled "shark" I have found at my local fish shop closer to 240/320 grit.
Also, close up pictures of the Titian Stradivari violin seems to have revealed some "narrow-spaced striations" on the back as mentioned by Samuel Zygmuntowicz in the Strad article published in February 2009: Analysing the 'Titian' Stradivarius violin, 1715.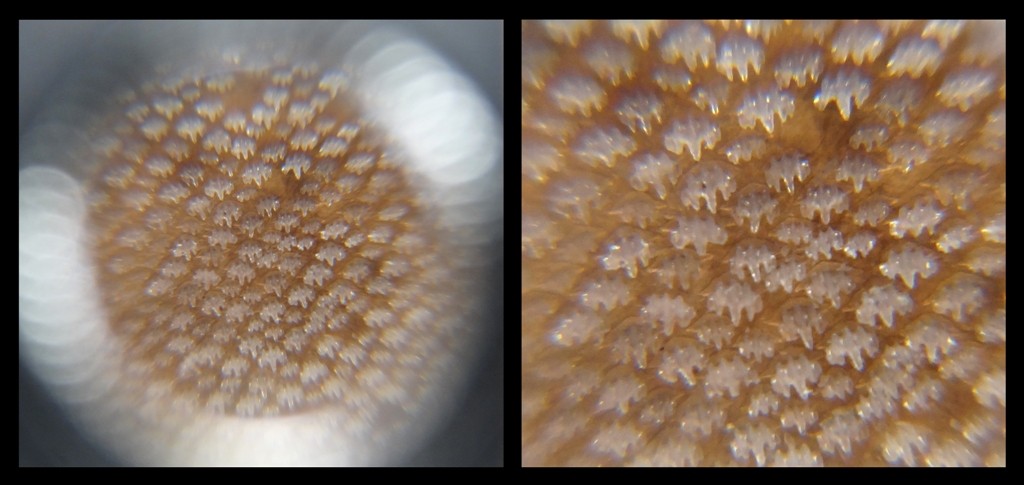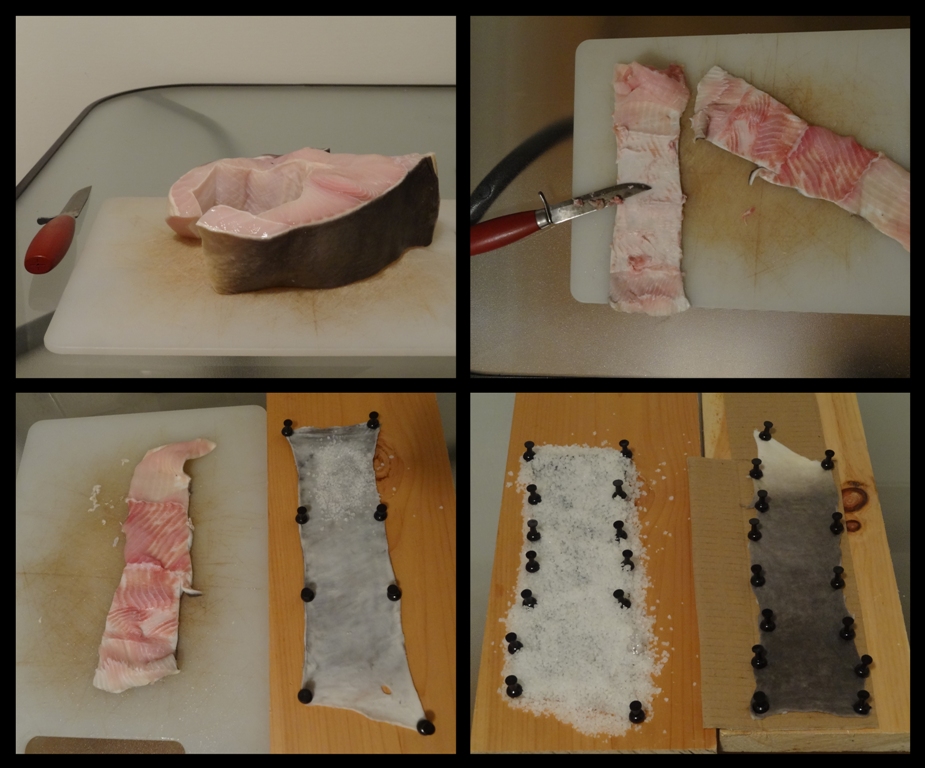 I thought I would share the two different approaches that I've tried to cure the shark skin, in case it would be of interest for my colleagues (in terms of historical reconstitution).
In order to be practical, I tried to use products easy to get and not too unpleasant to handle and therefore decided to experiment with two techniques. In the first one I used a layer of sea salt to pull out the humidity from the inside of the skin. For the second one I let the skin dry with the inside of the skin resting on a thick piece of cardboard. Both worked quite effectively. I had a fan blowing air sitting right next to them, just to make sure it would cause the humidity (and the smell) to circulate. The pieces of skin were held flat using poster pins.
As I was experimenting, I attempted to remove more of the white part between the coarse grey surface of the skin and the flesh on one piece. This one seemed to be ready to use once dry. To do it efficiently requires a sharp knife and caution not to cut a hole through the skin. The second one, to which I had only removed the flesh was thicker and needed to be scraped once dry (a bit like with parchment) in order to thin it down. So it is also possible to adjust the thickness and therefore the flexibility of a piece of "shark skin paper" at the end.
Then, I washed both of them in a baking soda solution (and skipped the urine part advised in some recipes) and dried them as much as I could with paper towel before preparing them to dry flat.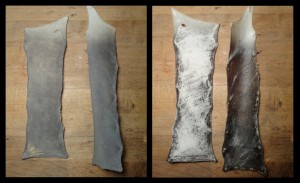 [1] The "secrets"of Stradivari, by Simone F. Sacconi, 2000, Cremona, Eric Blot Edizioni.
Copyrights © 2015-2021 Charline Dequincey. All rights reserved.